The best iftar and sohour in Alexandria
To make your life easier this Ramadan, we've gathered a list of Ramadan restaurants in Alexandria you must try this year. This month is all about food (and mosalsalat, but that topic is for a different day!) Try these places out for iftar or for suhour—we made sure to have something for everyone on this list!
1.Sheesh Beesh
Perfect for iftar or suhour, Sheesh Beesh's atmosphere spells out Ramadan. With a special and affordable iftar and suhour menu, this restaurant is the place to be this Ramadan. Located in the Forum, next to Mirage mall, this place serves good food, good drinks and good shisha, in an authentic Egyptian ambiance, with people playing tawla on almost every table. Don't just take our word for it. Give it a try!
2.Scala
This Mediterranean café and restaurant located in the Forum is quickly becoming one of Alexandria local's favorite. They created the perfect combination of inventive cuisine served in a stylish décor and by a gracious service. With a Ramadan set menu and their suhour menu with 7many Egyptian and Lebanese cuisine options are guaranteed to satiate you.
3.Kala
This is one of our favorite Four Seasons restaurants. Elegant yet casual, this restaurant overlooking the Mediterranean Sea offers a buffet with a focus on Mediterranean dishes that give a nod to North Africa. While sampling their iftar buffet, you can watch food being prepared in the open kitchen, with its slowly spinning rotisserie and wood-burning oven. Kala is a great place for groups, families and those pressed for time. There is an area for private parties, so if you wish to host your annual gathering without the hassle of cooking, this is the place to go!
4.Byblos
In this Lebanese restaurant, high-end Middle Eastern fare is the focus of Byblos, located in the Four Seasons Hotel. Enjoy a leisurely dinner in a warmly elegant environment accented by an art glass chandelier and a crackling corner fireplace. The food—an open iftar buffet—is incredible, but the expansive view of the Mediterranean is the highlight.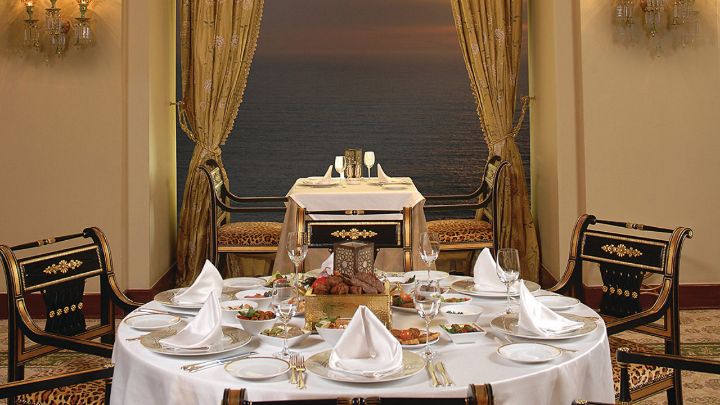 5.Fish
Located on the Four Season's private beach, Fish Restaurant and Lounge offers casual, outdoor Iftar overlooking the Mediterranean Sea. Dine on special items in their buffet, while relaxing beachside for iftar or suhour. If your anniversary happens to coincide with Ramadan, private dining for two is available in a romantic setting.
6.Teatro Iskendria
Besides being a restaurant, Teatro Eskendria is also a performance space and music studio. You can enjoy your sohour at Teatro with live music in an authentic Egyptian atmosphere.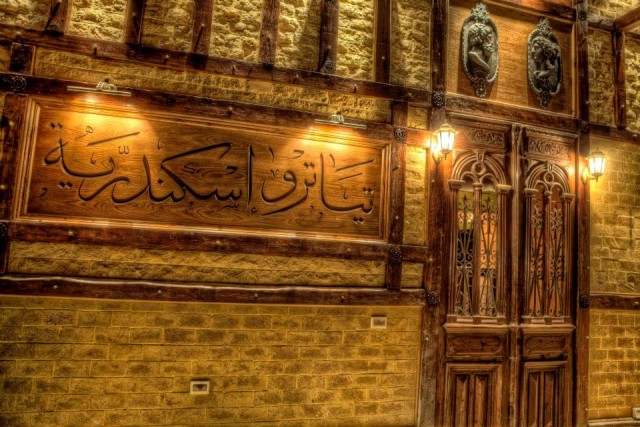 7.The Greek Club
Enjoy The Greek Club's sensational view of the sea, boats and Qaitbay citadel.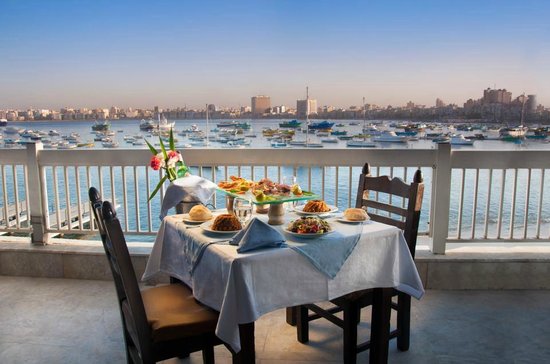 8.Ole Café
Ole, open in both Kafr Abdo and Mirage Mall, is a Ramadan staple in Alexandria. The casual atmosphere makes it a great post-iftar and suhour place, but their delicious iftar buffet is a must-try. Our favorite part about the meal is dessert, of course, with Sue pastries. If you have a cheat day on your diet, Ole is where to go!
9.Rio Café
This café turns into a full-blown restaurant, with both an iftar buffet and an a la carte menu. Located in San Stefano Mall and in Montazah (remember where the old bowling alley use to be? There!) Their special suhour menu goes great with their incredible shisha. Rio Café is a Ramadan must-try!
10.Trianon
An Alexandria classic, Trianon successfully puts you in the Ramadan mood. Located off of Saad Zaghlul Street, we visit Trianon when we're feeling nostalgic and want something cozy. Their food is on point and their desserts are undeniable.
11.L'Passage
Pottery Café, Bram, and Pasqua—just to name a few! L-Passage is a popular choice for locals in Ramadan. This rather cosmopolitan plaza is going oriental this month, with a Kheimah theme. If you go there for feitar or suhour, make sure you pass by Nutellopia for dessert. They have a Multan Nutella Konafa—our favorite Konafa version this year!